Making the platform
Step 1: The boundary joists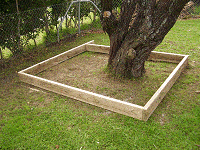 Nail the boundary joists together around the tree.
Use 150mm x 50mm (2″x6″) lumber suitable for exterior use and fix with 100mm (4″) galvanized nails.
Refer to the plans for dimensions.
Step 2: Raise the boundary joists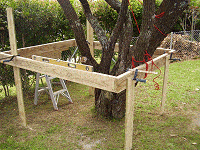 Temporarily prop-up the boundary joists to the required height.
Use any available wood for the props and fasten them to the boundary joists with clamps.
Further support with rope around the tree and joists to prevent sway.
Ensure that the boundary joists are level all the way around.
Step 3: The footing holes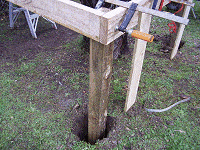 Dig footing holes directly below each corner.
Make the holes 300mm x 300mm (12″x12″) square and about 600mm (2ft) deep if the ground is medium firm.
Cut the posts to length so that they are flush with the top of the boundary joists and at least 75mm (3″) off the bottom of the hole.
Clamp the posts to the joists and ensure that they are plumb.
Step 4: Concrete around the posts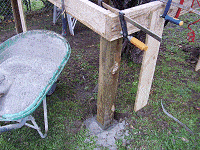 Make a mix of concrete in a wheelbarrow at a ratio of 3 gravel, 2 sand and 1 cement. Add clean water and mix to a uniform consistency
Carefully shovel the concrete into each hole.
Fill to within 75mm (3″) of the top of the hole.
Step 5: Fix the posts to the boundary joists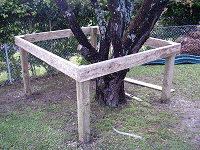 When the concrete has cured, drill and bolt the boundary joists to the posts.
Use two 12mm (1/2″) galvanized bolts at each corner.
You can then remove the temporary props.