Making the platform
Step 1: The boundary joists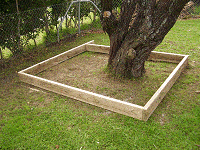 NailA short nail with a large flat head used for securing roofing felt, plasterboard, sheet metal to wood etc. the boundary joists together around the tree.
Use 150mm x 50mm (2″x6″) lumberAny of the framing wood. suitable for exterior use and fixTo secure with nails or screws. with 100mm (4″) galvanizedCovered with a protective coating of zinc. nails.
Refer to the plans for dimensionsAny of the three linear measurements, length, breadth and depth..
Step 2: Raise the boundary joists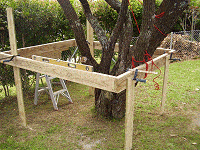 Temporarily prop-up the boundary joists to the required height.
Use any available woodTimber, lumber. The hard fibrous lignified substance under the bark of trees for the props and fasten them to the boundary joists with clamps.
Further support with rope around the tree and joists to prevent sway.
Ensure that the boundary joists are level all the way around.
Step 3: The

footing

A base (in or on the ground) that will support the structure.

holes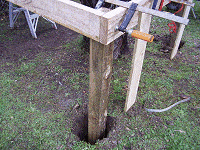 Dig footing holes directly below each corner.
Make the holes 300mm x 300mm (12″x12″) square and about 600mm (2ft) deep if the ground is medium firm.
Cut the posts to length so that they are flushBeing even with. with the top of the boundary joists and at least 75mm (3″) off the bottom of the hole.
Clamp the posts to the joists and ensure that they are plumbVertical; Upright..
Step 4:

Concrete

A mixture of sand, gravel, water and cement which hardens to a stone like condition when dry.

around the posts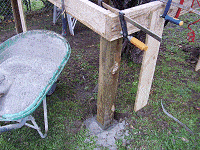 Make a mix of concrete in a wheelbarrow at a ratio of 3 gravel, 2 sand and 1 cementA powdery type substance made from a mixture of earths materials such as limestone and shale, which is sintered (cause to become solid mass by heating without melting), ground, and mixed with small amounts of calcium sulphate and calcium carbonate. Cement is activated by water and when mixed with gravel and sand, forms concrete.. Add clean water and mix to a uniform consistency
Carefully shovel the concrete into each hole.
Fill to within 75mm (3″) of the top of the hole.
Step 5: Fix the posts to the boundary joists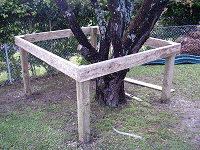 When the concrete has cured, drill and boltA metal rod that has a head on one end and threads on the other and is used to fasten together lumber. The most common bolts used or referred to in projects within this website are coach/carriage bolts and hex bolts. the boundary joists to the posts.
Use two 12mm (1/2″) galvanized bolts at each corner.
You can then remove the temporary props.