Making the swing-set
Step 28: position the tree end of the

beam

A supporting member.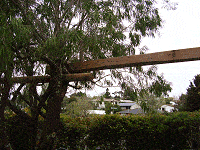 Sit one end of the swing-set beam in between two solid branches.
Tie securely with rope.
We used a 125mm x 125mm (5″x5″) beam that was 3300mm (11ft) long. The height of the beam off the ground was 2500mm (100″).
Step 29: Prop the other end of the beam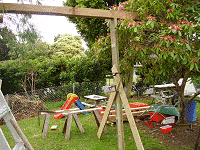 Prop the other end off the ground 100mm (4″) above level.
This is to allow enough room to position and concreteA mixture of sand, gravel, water and cement which hardens to a stone like condition when dry. the posts (A-frame) into the ground.
Step 30: Make and place the 'A' frame for the beam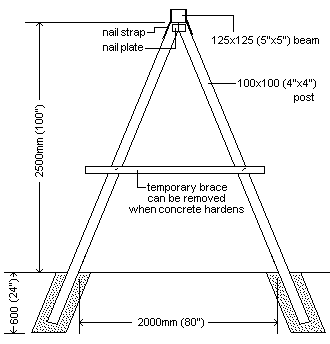 Make up the A-frame which supports the end of the beam.
Work out the overall height of the A-frame (including the part that goes into the ground) and also work out the top angle cuts then make the fame up on the ground.
FixTo secure with nails or screws. a temporary braceTo make rigid. to the two posts to hold the shape.
When the A-frame is made, determine the position of the footingA base (in or on the ground) that will support the structure. holes and dig them.
Then stand the A-frame upright in the holes. Use whatever braces and props are necessary to hold the A-frame in the right position and plumbVertical; Upright. (upright).
Make a mix of concrete in a wheelbarrow at a ratio of 3 gravel, 2 sand and 1 cementA powdery type substance made from a mixture of earths materials such as limestone and shale, which is sintered (cause to become solid mass by heating without melting), ground, and mixed with small amounts of calcium sulphate and calcium carbonate. Cement is activated by water and when mixed with gravel and sand, forms concrete.. Add clean water and mix to a uniform consistency and carefully shovel the concrete into each hole.
Fill to within 75mm (3″) from the top of the hole.
Step 31: Fix the beam
When the concrete has cured, lower the beam onto the A-frame and fix with galvanizedCovered with a protective coating of zinc. nails, nailA short nail with a large flat head used for securing roofing felt, plasterboard, sheet metal to wood etc. straps and nail plates.
Finally, hang your choice of swing(s) from the beam.