Deck

A flat floored roofless area adjoining a house. Timber deck: An outside floor structure comprising of posts, bearers, joists and decking boards.

frame 
Step 6: The intermediate joists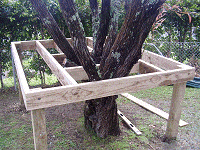 Place and fixTo secure with nails or screws. the intermediate joists.
Space them so that the deck boards do not have to spanThe horizontal distance between supporting structures. more than 400mm (16″) at any point.
Refer to the plans for an example.
Step 7:

Block

Blocking. A pieces of wood that runs between other members (studs, joists, rafters) to provide support, add strength and/or act as a solid support between panel joins.

around the tree
Block around the tree branches.
Use any available off-cuts of woodTimber, lumber. The hard fibrous lignified substance under the bark of trees.
The purpose of this step is to give the deck boards a support to attach to close up to the branches.
Step 8: Platform extension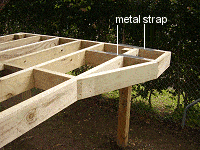 Add any (only if needed) additional platform extensions.
The purpose of this particular platform jut-out is to off-set the angle of the slide in order to keep it a safe distance from the fence.
Any such jut-out extensions should have a galvanizedCovered with a protective coating of zinc. metal strapShort lengths of metal strap 25×1 (1/16×1) used to fix members together to resist uplift. fixed to the top of the joists/blockings to prevent possible downward tilt. See picture.
Step 9: The stair landing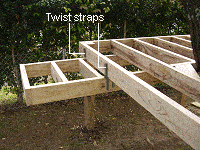 Make the stair landing.
CantileverA structural member which has a free end projecting beyond its supporting wall or column; length of span overhanging the support. Any structural part of a building that projects beyond its support and overhang. the landing from under the platform joists.
Run the landing joists 1500mm (5ft) under the platform joists.
Secure the landing joists to the platform boundary joistOne of a series of parallel members used to support the floor. Part of the framing that provides the structure for a floor. with galvanized twist strap or similar. (See the picture as well as the plans for further detail.)