Laying the

deck

A flat floored roofless area adjoining a house. Timber deck: An outside floor structure comprising of posts, bearers, joists and decking boards.

boards
Step 10: The deck boards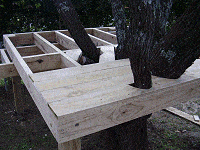 Start laying the deck boards.
Begin by nailing the first deck boardA piece of sawn, or dressed lumber of greater width than thickness. Usually 19mm (3/4") to 38mm (1 1/2") thick and 75mm (3") or more wide. flushBeing even with. with the front joistOne of a series of parallel members used to support the floor. Part of the framing that provides the structure for a floor. and then continue with the rest.
Cut around any branches.
Step 11: More deck boards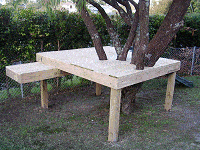 Continue laying the deck boards until finished.
TrimThe finish materials in a building, such as narrow boards applied around openings (window trim, door trim) and vertical corner battens. off any excess.
Do the same on the landing.
Attaching the slide
Step 12: Attach the slide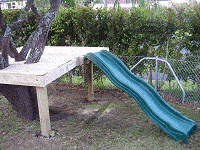 Attach the slide.
Most slides that you purchase will come with full installation instructions.
For information about slides and where to purchase them click here.