Making the steps
Step 13: Make the step pattern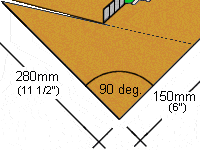 Make a template that you will use to mark out the tread positions on the stair stringers.
Take a piece of cardboard 300mm (12″) square or larger (alternatively you can use any type of boardA piece of sawn, or dressed lumber of greater width than thickness. Usually 19mm (3/4") to 38mm (1 1/2") thick and 75mm (3") or more wide. or thin woodTimber, lumber. The hard fibrous lignified substance under the bark of trees).
Cut out a triangular piece from the cardboard as shown in the diagram.
Step 14: Mark the steps on the stringers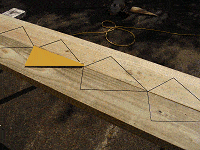 Lay out the two stringers 200×50 (2×8) flat on a couple of work stools.
Hold the cardboard template with its longest edge flushBeing even with. to one edge of the stringer, approx 300mm (12″) in from one end, and pencil mark around the template. Repeat this action five times on each stringer.
Ensure that one stringer mirrors the other.
Step 15: Mark the treads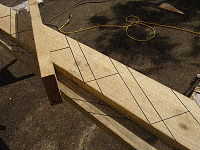 To continue marking out for the treads, use a piece of lumberAny of the framing wood. about 600mm (24″) long and the same thickness as the treads, which is approximately 46mm (1 1/2″). This piece of lumber is to be used only for marking and can then be discarded.
Hold this piece of lumber flush on one of the tread pencil lines marked on the stringer.
Mark each side of the 46mm (1 1/2″) thick lumber across the full width of the stringers, as shown in the picture.
Repeat this action to all tread lines, on both stringers
Step 16: Cut the stringers to length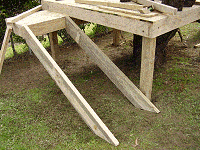 Cut the stringers to length.
Lay them in place to check for length.
Make any necessary adjustments.
Sometimes the bottoms of one or both of the stringers may need to be trimmed if the ground is uneven.
Step 17:

Notch

A U-shaped cutout in a member to house another member. A notch has two sides and can be anywhere along the member except the ends (unlike a rebate that is an L-shaped cut-out with one side and is always at an end or side of a member).

the stringers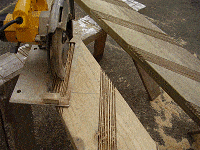 Lay the two stringers back on the work stools.
Notch (check out, rebateAn L-shaped cutout with one side, that is always at an end or side of a member, unlike a notch that is a U-shaped cutout.) the stringers to house the treads.
SetHow much the teeth are angled out on a circular saw blade. the blade depth on a circular saw to approximately 12mm (1/2″) and make repeated cuts along and between the tread markings on the stringers.
There is another article on how to make exterior steps here