Assemble the side frames
Step 5. Make up the two tabletop support units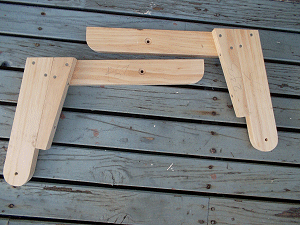 Glue and screw pieces [k] to pieces [j], and then glue and screw them to pieces [i] to make two tabletop support units.
Use the plan below and photos for reference, and don't forget to make up each opposing unit so that they are mirror images of each other.

Step 6. Connect the side frames
It's now time to join the side frames together, which is really just a matter of aligning the boltA metal rod that has a head on one end and threads on the other and is used to fasten together lumber. The most common bolts used or referred to in projects within this website are coach/carriage bolts and hex bolts. holes in pieces [i] with the bolt holes in pieces [f], threading bolts (with washers) through the holes, and applying washers to the other ends followed by nylon locking nuts. Then do the same to pieces [j] and [d].
Refer to the photos for a bit of visual guidance, and ensure that one complete side frame is a mirror image of the opposite side frame.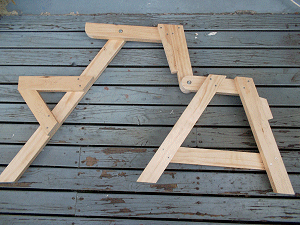 Note: Each bolt is used as a pivot point for two pieces of woodTimber, lumber. The hard fibrous lignified substance under the bark of trees, therefore the nuts cannot be tightened completely otherwise the wood would not be able to 'pivot' freely.
Because the nuts can only be loosely tightened (just enough to allow the wood to pivot), nylon locking nuts (or similar) are required.
A nylon locking nut is a nut that resists further loosening or tightening under vibration and torque. It has a nylon collar insert.