Introduction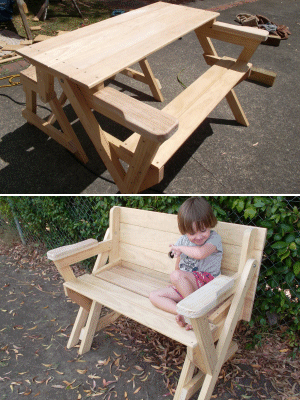 From picnic table to bench seat in one easy move.
This compact one-piece folding picnic table can be neatly folded back into a single bench seat and tucked away in a corner of the deck, patio, or garden area.
This design is a remake of a very old table given to me many years ago. The old table was due for the scrap heap, so before it disintegrated and was lost forever, I decided to make another.
I had made a similar-style bigger table once before (it can be seen here), but this one is more compact and is ideal for a deck or area with limited space.
In seat-mode it can be neatly placed to one side and seat two people. When food or drinks are served it can easily be folded out to make a picnic table with a seat each side that will comfortably accommodate two adults and two kids, one adult and four kids, or five kids (subject to the kids' sizes of course).
The structure of the thing
The mechanism of this masterpiece is all in the side frames, where the various members are cunningly assembled to allow the necessary motions that transform the unit from a single seat to a two-seater picnic table, and vice versa.





And once the two side frames have been made, it is simply a matter of fixing the seat panels and tabletop panel to the side frames, and adding the armrests.
The armrests, incidentally, also act as a brake to contain the unit from spreading out too far.