Fix and seats and tabletop
Step 9. Fix the seats to the side frames.
It becomes obvious which seat goes where: the shorter seat fits in between pieces [k] with the back edge flush with the back of piece [d] and the longer seat sits flush with the front and ends of the frame.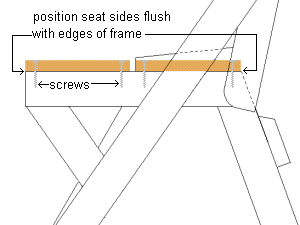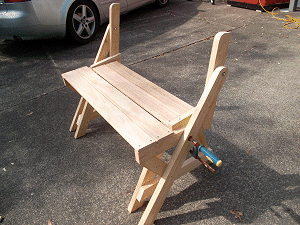 Step 10. Prepare and fit the tabletop.
When the tongue and groove boards have been cut to length and the two sides trimmed to make a panel 475 (19″) x 1090 (43 5/8″), then join the boards together by fitting the respective tongues into the grooves. It's best to hold them in place by clamping a batten across the middle of the panel until such time as it is firmly fixed in place.
Then clamp the tabletop to pieces [i] (the tabletop supports) so the overhang is equal all the way around, and screw it in place.