Fix

To secure with nails or screws.

and seats and tabletop
Step 9. Fix the seats to the side frames.
It becomes obvious which seat goes where: the shorter seat fits in between pieces [k] with the back edge flushBeing even with. with the back of piece [d] and the longer seat sits flush with the front and ends of the frame.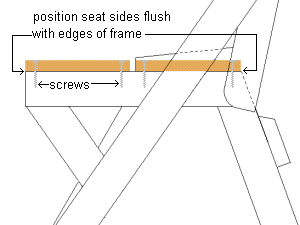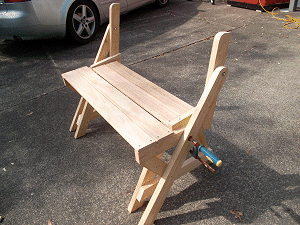 Step 10. Prepare and fit the tabletop.
When the tongue and grooveA joint in which a protrusion (tongue) that runs along the edge of a board fits into a matching groove that runs along the edge of another board. Boards shaped with a tongue on one edge and a groove on the other so that they can be fitted together without gaps. boards have been cut to length and the two sides trimmed to make a panelA sheet that forms a distinct flat and rectangular section or component. A transparent panel used to fill a framed section of a window. 475 (19″) x 1090 (43 5/8″), then join the boards together by fitting the respective tongues into the grooves. It's best to hold them in place by clamping a battenNarrow board used to cover cladding joins. across the middle of the panel until such time as it is firmly fixed in place.
Then clamp the tabletop to pieces [i] (the tabletop supports) so the overhang is equal all the way around, and screw it in place.