Adjust the backstops and

fix

To secure with nails or screws.

the bracing
Step 11. Adjust the back

stop

The part of the plywood wall panels that overlaps the door and window frame, and protrudes into the door or window area and covers any gaps between the door/window and the surrounding frame. It acts as a stop for the door and also stops the rain getting in.

and add the braces.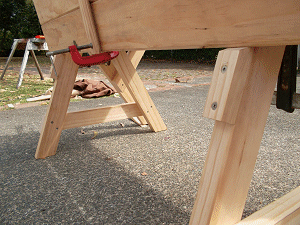 If need be, adjust the back stop [e] so it sits hard up under the edge of the tabletop.
You can then take any clamps off and turn the unit upside down, packed on blocks of woodTimber, lumber. The hard fibrous lignified substance under the bark of trees (to steady it) in readiness for the bracing.
Out of 32 mmAbbreviation for millimeter which is a metric unit of length equal to one thousandth of a meter. 25.4 mm equals one inch. x 32 mm (1 1/4″ x 1 1/4″) stock, cut the following lengths: [n] – 2 @ 530 mm (21 3/16″). Cut a 45 degree angle at each end as shown in the drawing below.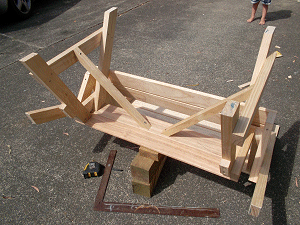 With the unit upside down, ensure that the two side frames are at right angles to the seats and commence fixing the two braceTo make rigid. pieces [n] in place.
Screw one end of each piece to horizontalParallel to the horizon, flat, level. piece [c] and the other end to the underside of the seat.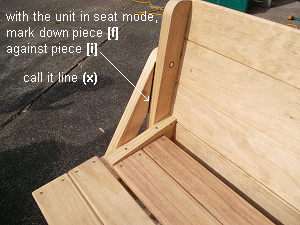 Step 12. Mark position for the armrest horizontal frame pieces.
First, with the unit in seat mode, pencil a line (x) down piece [f] against piece [i] as shown in the photo.
The unit must be in table mode for the armrest to be fitted, so…
when the unit is folded open to table mode, and the armrest frame is being fitted, that line (x) is the mark where the inside end of piece [l] will be positioned up to, and fixed. All will become clear as we progress.