Make and fit the armrest frames
Make up the two armrest frames.
Join pieces [l] and [m] together with glue and screws, forming two 'V' shaped frames.
Ensure one is a mirror image of the other.
Refer to the picture.
Next fix the armrest frames to the longer legs [f].
Refer to the plans on the previous page for positioning, and the pictures below for visual guidance.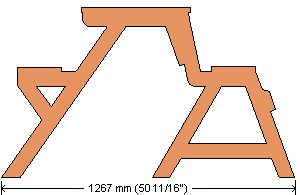 Important!
Before fixing the armrests, ensure that the spread of the table is correct. The overall spread (longest point at the bottom, front legs to back legs) should be 1267 mm (50 11/16″).
Also, the seats and table top should be on the same plane (level).
See picture.
Notice (in the photo below) that the horizontal frame piece [l] is positioned directly under the tabletop support member [i] and the end is positioned up to pencil line (x). That is the pencil line we made in Step 12., when the unit was in 'seat' mode.