Make and fit the armrest pads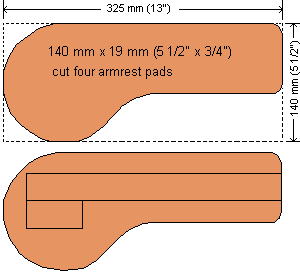 Step 14. The armrest pads.
Out of 140 mmAbbreviation for millimeter which is a metric unit of length equal to one thousandth of a meter. 25.4 mm equals one inch. x 19 mm (5 1/2″ x 3/4″) stock, cut four pieces 325 mm (13″) long, and then with a band-saw or jig-saw cut them to shape as shown in the plan drawing.
There will be four altogether, two each side. Each side has a double layer. This is so the first layer can be glued and screwed to the horizontalParallel to the horizon, flat, level. frame piece [l], and the second layer can be glued on top of that, and screwed from underneath – thus resulting in an armrest pad without visible screw holes or screw heads.
Position the pads over piece [l] as shown in the plan drawing. Ensure that the narrow end butts up against the tabletop support [i].
Note: The armrest, as well as being for the obvious (to rest your arms), also serves another purpose. It acts as a brake to stopThe part of the plywood wall panels that overlaps the door and window frame, and protrudes into the door or window area and covers any gaps between the door/window and the surrounding frame. It acts as a stop for the door and also stops the rain getting in. the table from spreading out too far.