Description & About the measurements
Description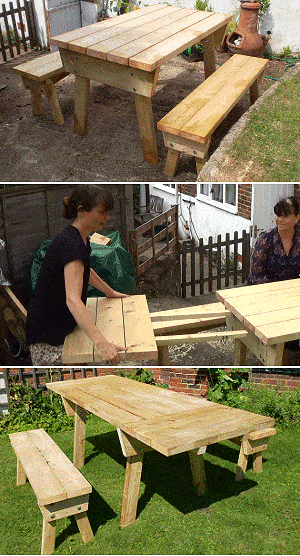 This table and bench setHow much the teeth are angled out on a circular saw blade. comprises of a sturdy stand alone rectangular shaped table and two (also stand alone) bench seats.
There are two extension pieces that can be slotted into the ends of the table to increase its length. The two extension pieces are separate from the table, and when not needed they can be completely removed and stored until further required. They are not permanently attached to the table.
The table and benches are made out of treatedPressure treated. Refers to lumber that is treated in such a way that the sealer is forced into the pores of the wood. Refers to lumber pressure sprayed with chemicals to lengthen its life expectancy for outside use or inground applications. softwoodGeneral term used to describe wood produced from needle and/or cone bearing trees. Wood that is easy to saw from conifers such as pine or fir. The term 'softwood' does not refer the density of the wood as there are hardwoods that are softer than softwoods such as balsa.. The stock sizes used are: 190 mmAbbreviation for millimeter which is a metric unit of length equal to one thousandth of a meter. 25.4 mm equals one inch. x 45 mm (1 1/2″ x 7 1/2″), 145 mm x 45 mm (1 1/2″ x 5 1/2″), 95 mm x 45 mm (1 1/2″ x 3 1/2″), 65 mm x 45 mm (1 1/2″ x 2 1/2″), and 45 mm x 45 mm (1 1/2″ x 1 1/2″).
The table is 750 mm (30″) wide and 1300 mm (52″) long minimum, and extends to 2200 mm (7′ 4″) with the extension pieces added. Each bench seatA seat that is lacking a divider. A long seat for two or more persons is 1300 mm (52″) long and 290 mm (11 5/8″) wide.
About the measurements used
DimensionsAny of the three linear measurements, length, breadth and depth. given in this project are in both MetricMillimeter measurements. (mm) and ImperialStandard. Feet and inch measurements. (inches).
The metric measurements are given first followed by the standard measurements in brackets ( ).
For example: 95 mm x 45 mm (1 1/2″ x 3 1/2″).
The size (width and thickness) of the woodTimber, lumber. The hard fibrous lignified substance under the bark of trees used in this project is the 'actual' (true) size.
That is the size of the wood after it has been dressedSurfaced; planed; smooth; even surface; gauged. (surfacedSee Dressed., planed and/or seasoned).