Assembling the table frame
Step 10: Make the table frame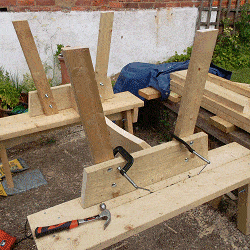 The two bench seats can now come in handy, as they can be used as work benches to make up the table.
Make up the table in the same way as the seats were made.
Nail the two table-top supports [d] (one each end) to the table brace [c], glue and clamp the legs [f] in place (refer to the 'plan drawing' for placement), and then drill and bolt to secure. Put in two bolts at each meeting, that will be 8 bolts in all for the table legs.
Step 11: Add some metal strap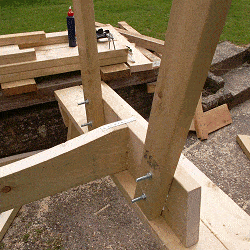 Fix some galvanized metal strap (fixing band) to the underside of the brace [c] (at each end) and the table-top support [d]. That will tie them in place and help prevent wobble further down the track should heavy usage take its toll.
Also, now is a good time to cut off the ends of any over length bolts, if applicable.
Step 12: Cut notches for the extension runners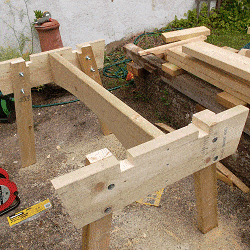 Cut notches 45mm (1 1/2″) deep x 45mm (1 1/2″) wide in the table-top support [d] and part of the top of the legs to accommodate the extension sliding runners.
Space the notches 250 mm (10″) apart. Refer to the drawing below.

The notches (rebates) can be cut by setting the blade of a circular saw to the required depth and making multiple cuts across the cut-out area and then by cleaning out the area with a chisel.