Assembling the table frame
Step 10: Make the table frame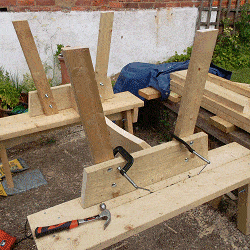 The two bench seats can now come in handy, as they can be used as work benches to make up the table.
Make up the table in the same way as the seats were made.
NailA short nail with a large flat head used for securing roofing felt, plasterboard, sheet metal to wood etc. the two table-top supports [d] (one each end) to the table brace [c], glue and clamp the legs [f] in place (refer to the 'plan drawing' for placement), and then drill and boltA metal rod that has a head on one end and threads on the other and is used to fasten together lumber. The most common bolts used or referred to in projects within this website are coach/carriage bolts and hex bolts. to secure. Put in two bolts at each meeting, that will be 8 bolts in all for the table legs.
Step 11: Add some

metal strap

Short lengths of metal strap 25×1 (1/16×1) used to fix members together to resist uplift.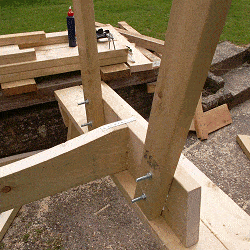 FixTo secure with nails or screws. some galvanizedCovered with a protective coating of zinc. metal strap (fixing band) to the underside of the brace [c] (at each end) and the table-top support [d]. That will tie them in place and help prevent wobble further down the track should heavy usage take its toll.
Also, now is a good time to cut off the ends of any over length bolts, if applicable.
Step 12: Cut notches for the extension runners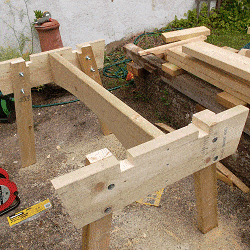 Cut notches 45mm (1 1/2″) deep x 45mm (1 1/2″) wide in the table-top support [d] and part of the top of the legs to accommodate the extension sliding runners.
Space the notches 250 mmAbbreviation for millimeter which is a metric unit of length equal to one thousandth of a meter. 25.4 mm equals one inch. (10″) apart. Refer to the drawing below.

The notches (rebates) can be cut by setting the blade of a circular saw to the required depth and making multiple cuts across the cut-out area and then by cleaning out the area with a chisel.