Fixing the seat boards and the legs
Step 7:

Fix

To secure with nails or screws.

the seat-top boards in place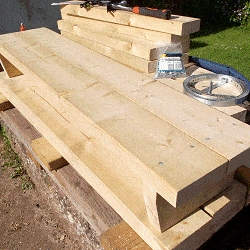 Flip the unit (comprising (e) and (b)) over so it is upright. Sit it on an even surface and place the seat boards (a) in position.
Ensure the overhangs at both ends are equal.
Fix the seat boards to the support (e) with nails, but first pre drill the nailA short nail with a large flat head used for securing roofing felt, plasterboard, sheet metal to wood etc. holes through the seat boards (a) to help eliminate the possibility of the woodTimber, lumber. The hard fibrous lignified substance under the bark of trees splitting.
Step 8: Finish the first seat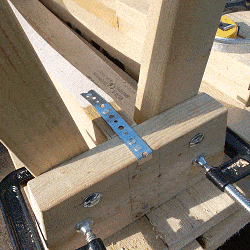 Turn the unit (comprising (a) (b) (e) – works so far) upside-down and sit it on an even surface.
Clamp the legs (g) in place. Refer to the 'plan drawing' for placement.
Drill and boltA metal rod that has a head on one end and threads on the other and is used to fasten together lumber. The most common bolts used or referred to in projects within this website are coach/carriage bolts and hex bolts. each leg with one bolt positioned approximately 40 mmAbbreviation for millimeter which is a metric unit of length equal to one thousandth of a meter. 25.4 mm equals one inch. (1 1/2″) down from the narrower side of the seat-top support (e). See the picture.
Also nail (when the unit is back in upright position) through the seat boards down into the top of each leg with one nail at each meeting.
Fix some galvanizedCovered with a protective coating of zinc. fixing band (metal strapShort lengths of metal strap 25×1 (1/16×1) used to fix members together to resist uplift.) to the seat-top support (e) and the brace (b), to tie them together. Refer to the picture.
Step 9: Make up the second

bench seat

A seat that is lacking a divider. A long seat for two or more persons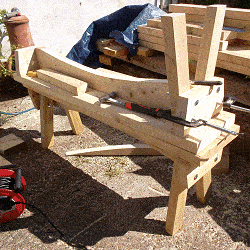 That's the first bench done. Now lets move onto the second.
Make up the second bench seat in the same manner as the first with one added bonus – you can use the first bench seat as a work bench to make up the second.
That of course, is only a bonus if you don't already have your own work bench in place.