Fixing the table top 
Step 13: Add the table-top boards
The table-top boards [a] can now be fixed onto the table frame.
Fix the two side boards first (one at each side of the table frame) ensuring that the overhangs are equal, then put in the three intermediate boards, evenly spaced, and fix them in place.

Nailing: Fix the table-top boards [a] to the Table-top support [d] with glue and two galvanized flat-head nails at each meeting.
Sure – you can use screws if you like, but flat nail heads look good on a rustic sort of table (I think, anyway).
Step 14: Strengthen the table-top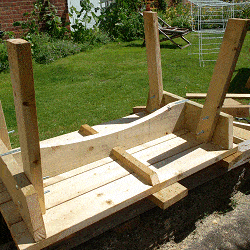 Turn the table upside down and fix a couple of blocks of wood (strengtheners) across the middle of the table on the underside. Glue and nail the strengtheners in place. They can be practically any stock size, whatever is left laying around.
The strengtheners will help prevent the top of the table from becoming uneven, i.e. keeping all of the table-top boards on the same plane.
Step 15: Finished table without extensions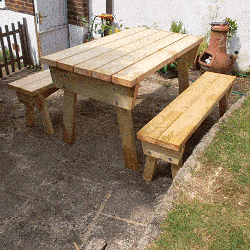 Well that's the table (without the extensions) and the two bench seats finished.
Sometimes a stand alone picnic table with separate seats is better that an all-in-one unit, as it allows far more options as to what can be done with it (seating, positioning, one-seat or two seat, etc.)
The table and benches came in handy for me on a following project, as three work benches. But that's another story.
Reader Interactions