Fitting the extensions
Step 19: Finish making the extensions
All the extension pieces are now marked, so they can be taken out.
On a work bench, turn the pieces over (upside-down) and re-align them to the marking.
Glue and screw the runners to the extension-top boards.
pre-drill all screw holes.
The table makes a good work bench for aligning and fixing the runners to the extension boards.
Trim off (with a handsaw) and angle back any piece of runner that sticks out past the end of the extension.
Step 20: Try for size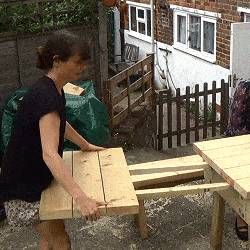 Now the proof is in the pudding. See how well the extensions fit, and why wouldn't they – the runners were tested for ease of sliding, the pieces were all marked for placement, and the runners were made parallel.
And of course, the runners were tapered to make them easily fit into the notches in the table.
What could possibly go wrong.
Look at that – fits like a glove