Plan Drawings and a Material List
Section 2.1.1

Sub-Floor

All the floor frame under the floor sheets, including the floor joists and the bearers.

Plan

Section 2.1.2. Flooring Plan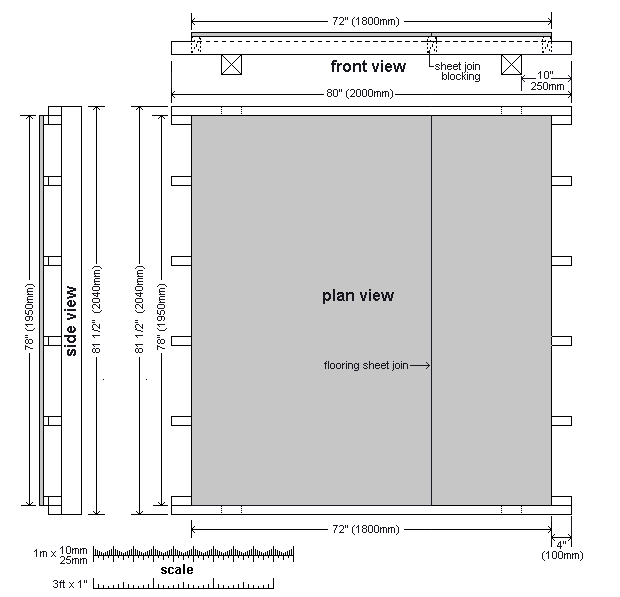 Section 2.1.3. Frame Layout Plan
Section 2.1.4. Front Wall-Frame Plan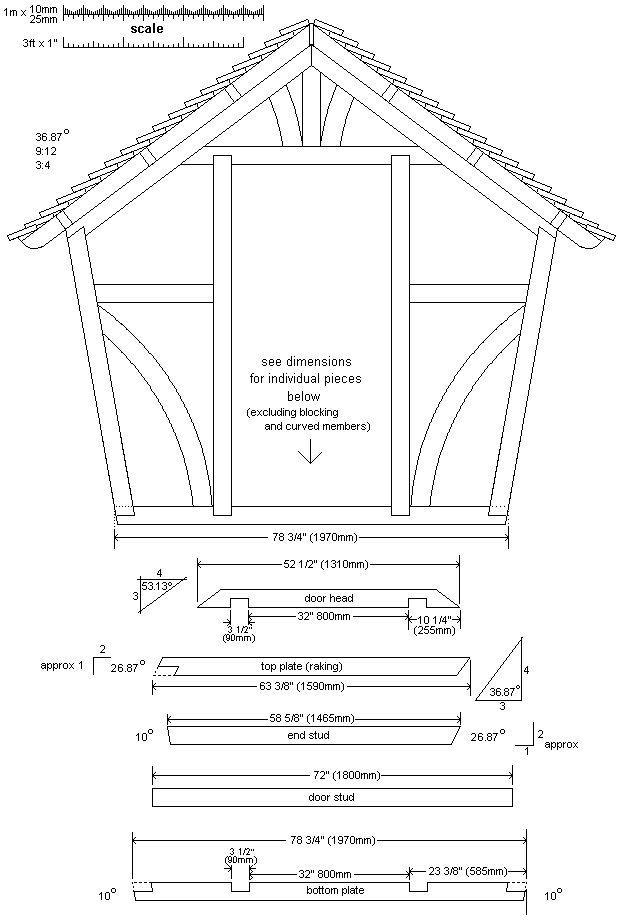 Section 2.1.5. Rear Wall-Frame Plan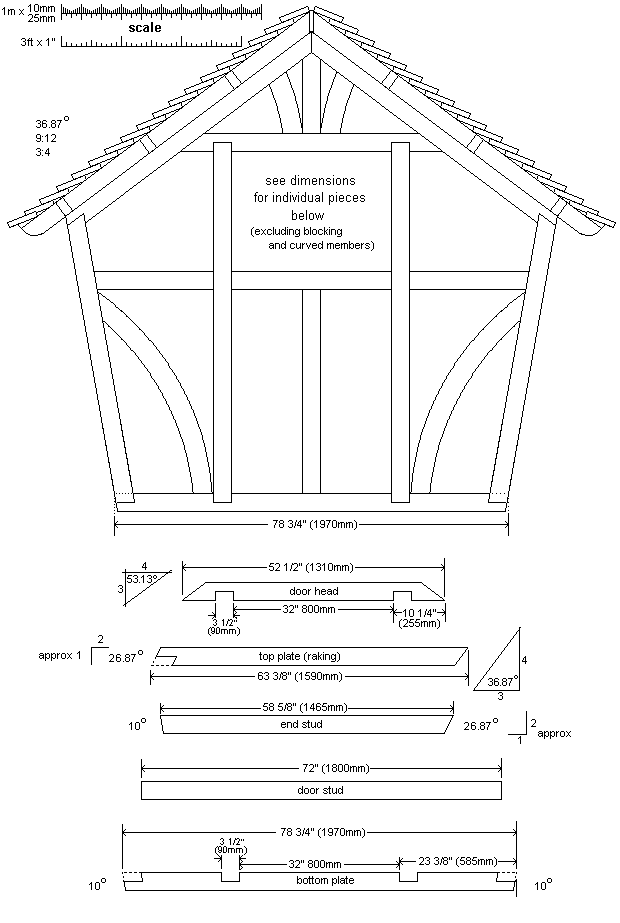 Section 2.1.6. Side Wall-Frame Plan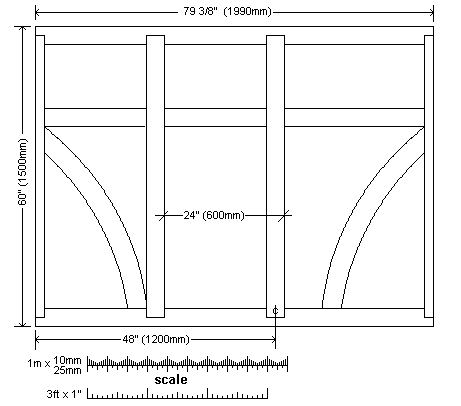 Section 2.1.7. Side

Elevation

Side view of a building.

Plan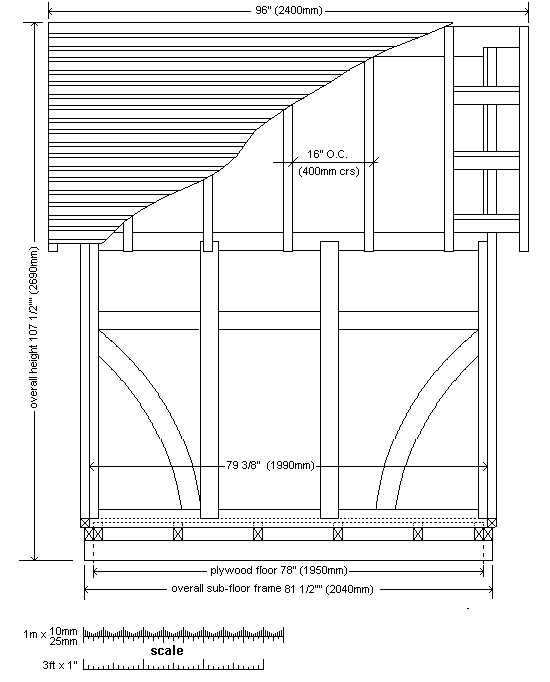 Section 2.1.8. Font Wall

Sheet

Any broad, thin surface.

Detail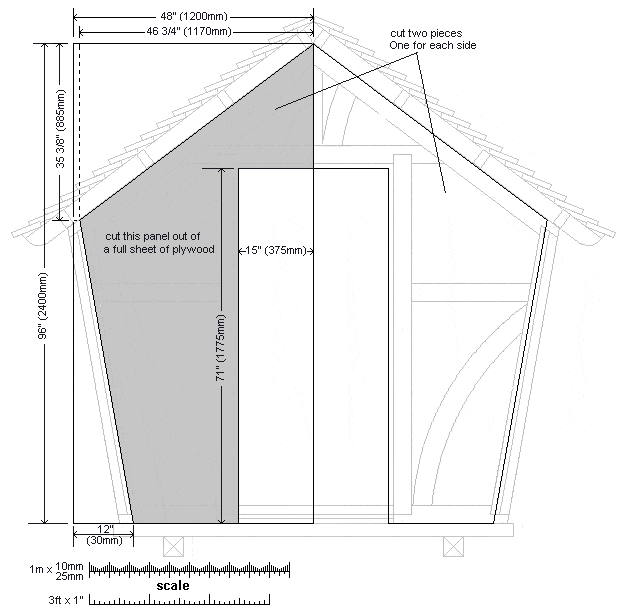 Section 2.1.9. Rear Wall Sheet Detail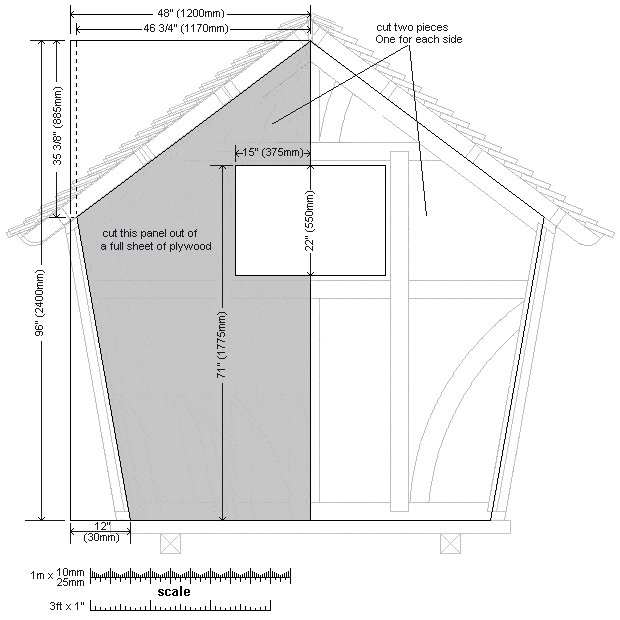 Section 2.1.10. Side Wall Sheet Detail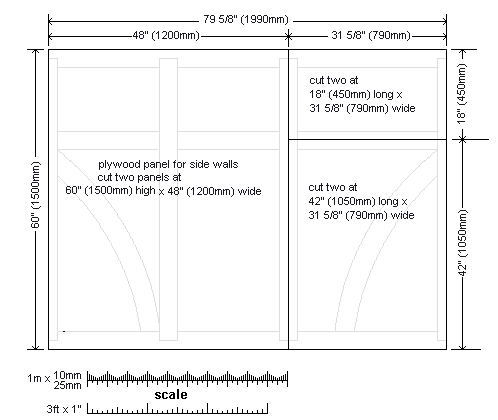 Section 2.1.11. Roof Plan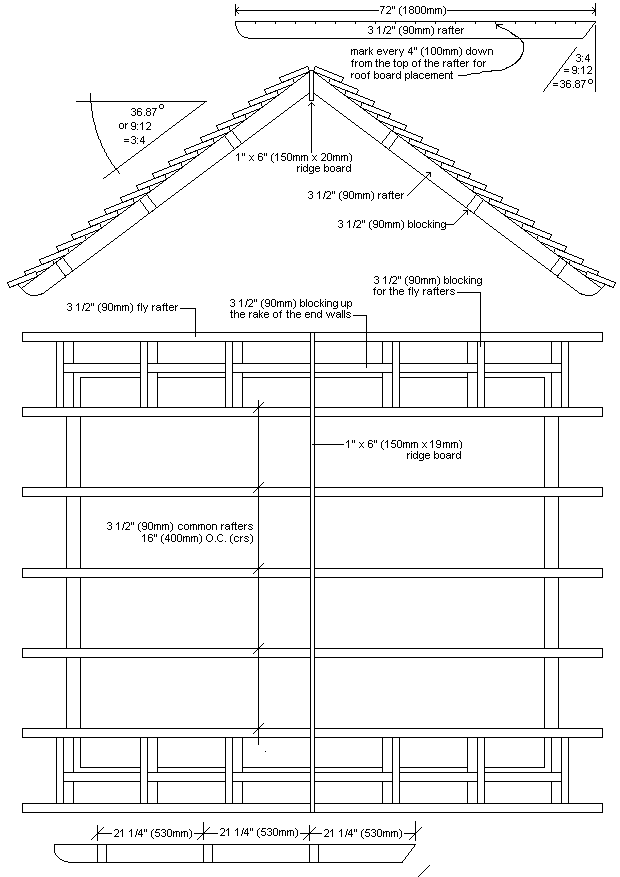 Section 2.1.12

Door

A horizontal framing member above the door/window opening.

and Window Plan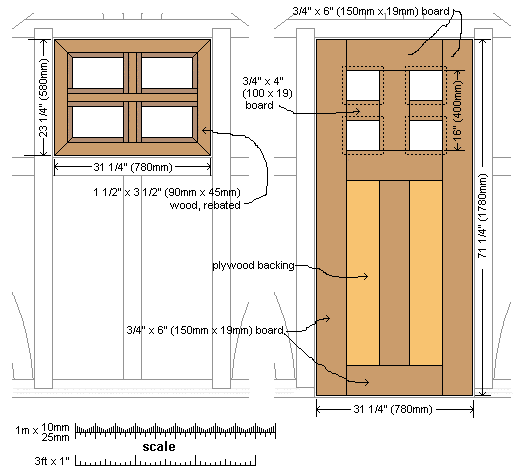 2.2. Material List
Some useful notes:


Use treatedPressure treated. Refers to lumber that is treated in such a way that the sealer is forced into the pores of the wood. Refers to lumber pressure sprayed with chemicals to lengthen its life expectancy for outside use or inground applications. woodTimber, lumber. The hard fibrous lignified substance under the bark of trees, or wood suitable for outside use.


Where only the total amounts are given, try to purchase in lengths as long as possible to minimize wastage.


When cutting the frame members, cut the longest members first, then cut the shorter pieces from the off-cuts to avoid wastage.


The total amounts do allow for a bit of wastage.


For this project you will need…


PlywoodA piece of wood made of three or more layers of wood veneer laminated together with glue.:
9 of 4ft x 8ft (1200mm x 2400mm) sheets 3/4″ (19mm) thick.


1 1/2 x 9 1/2″ (240mm x 45mm) wood:
32ft (10 meters) for the curved decorative braces. This is optional but does look good.


4″ x 4″ (100mm x 100mm) wood:
2 lengths at 81 1/2″ (2040mm) long.


1 1/2″ x 3 1/2″ (90mm x 45mm) wood:
410ft (123 meters)


3/4″ x 6″ (150mm x 19mm) boards:
48 lengths at 96″ (2400mm)


Acrylic sheet (plastic glass) 3mm (1/8″) thick:
4 pieces @ 8″ x 12″ (200mm x 300mm), 4 pieces @ 7″ x 8″ (175mm x 200mm).
Other bits and pieces you will need…


An 8ft (2400mm) length of 2″ x 2″ (50mm x 50mm) galvanizedCovered with a protective coating of zinc. angle for the ridge capCapping along the apex of the roof (right along the top). A galvanized flashing to keep the water out.,
20 galvanized hurricane ties 8″ (200mm) long,
some adhesive clear sealantA pliable substance used to seal a surface to prevent passage of a liquid. for the windows,
some wood glue,
3 of 6″ (150mm) T-hinges for the door,
2 of 3 1/2″ (90mm) butt hinges for the window,
a latchThe locking device on a door or window. for the door,
a latch for the window,
around 7 lb (3 kg) of 4″ (100mm) flathead galvanized nails,
around 7 lb (3 kg) of 3″ (75mm) flathead galvanized nails,
around 2 lb (1 kg) of 2 1/2″ (60mm) flathead galvanized nails,
and some paint of your choice.