Painting the wall frames and panels
Section 9.1. What to paint
Now's probably the best time to paint the frames and plywoodA piece of wood made of three or more layers of wood veneer laminated together with glue. claddingThe exterior surface of a building..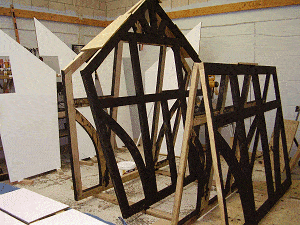 You can slip-slap-slop paint all over the place without having to worry about all that tedious cutting-around where two contrasting colors meet.


Prop the frames up against one-another, spread the plywood panels out, and go for it.


I just used a charcoal fence paint for the frame and a gloss white for the plywood.
Section 9.2. What no to paint
You don't need to paint the insides of the frame and DON'T PAINT the tops of the rafters, as the tops of the rafters have already been marked for roof-board placement (section 8.1), and we don't want to have to mark them all over again.