Marking the

plywood

A piece of wood made of three or more layers of wood veneer laminated together with glue.

wall panels
 Section 7. Marking the plywood wall panels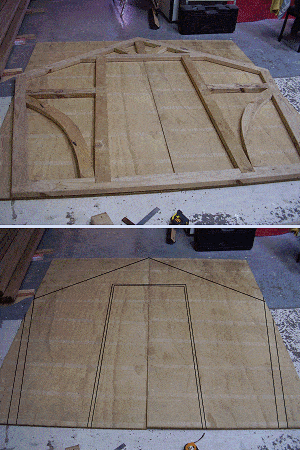 Although all the dimensionsAny of the three linear measurements, length, breadth and depth. and measurements are given in the plan drawings for each and every plywood wall panelA plywood sheet or any part of, used for the wall cladding., it is probably best to mark the front and rear wall panels using the wall frames as a pattern, just in case they ended up being not quite to plan.
This way, we know that the wall-panels will be the right size.


OK,
lay two full sheets of plywood together on an even surface.


Lay the front frame on top of the plywood sheets, so that the join (between the two plywood sheets) is in the middle of the frame.


Mark around the outside of the frame (onto the plywood) with a pencil and also mark the doorway.


Take the frame off the plywood.


Now mark another couple of lines, in 2 1/4″ (63mm) from the side lines, which will become the cutting line.


Also make another pencil line an inch (25mm) in from the doorA horizontal framing member above the door/window opening. line, all the way around. That will also become the cutting line.
Section 7.2. Cutting the plywood wall panels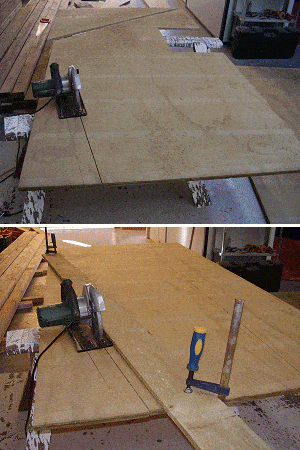 Lay the sheets on saw-horses or a cutting table in preparation for cutting.
SetHow much the teeth are angled out on a circular saw blade. the blade on the circular saw to a depth of slightly more than the thickness of the plywood.


If you are a dead-eye, then make the cuts free hand. I did, after all it is a shed! However, if you want perfectly straight cuts, then use a straight edge to guide the saw.


Clamp the straight-edge to the plywood as a guide for the saw but make allowances for the distance between the blade and the side of the saw plateThe top or bottom horizontal framing member of the wall., to ensure the blade cuts along its intended line.


When cutting the sheets, ensure the plywood is supported evenly on both sides of the cut, to avoid tearing should the off-cut piece fallOf roof; Pitch; The incline angle of a roof surface..


Do the same to the rear wall except of course there will be a pencil-mark around the window instead of a door, but the same principle applies.


Then, out of two full sheets and an off-cut piece left over from the floor, cut the panels for the two side walls, which will be six panels in total, two at 60″ (1500mm) long by 48″ (1200mm) wide, two at 42″ (1050mm) long by 31 5/8″ (790mm) wide, and two at 18″ (450mm) long by 31 5/8″ (790mm) wide.
Refer to Section 2.1.6  Side-wall sheetAny broad, thin surface. plan for wall-sheet placement.